Regrow your hair with the powerful combination of: the latest laser beam technology, an FDA approved regrowth pharmaceutical, and a proven scalp and follicle treatment program. Visible benefits and hair regeneration can occur in 3 months.
Hair Regeneration Laser Treatment to Regrow Hair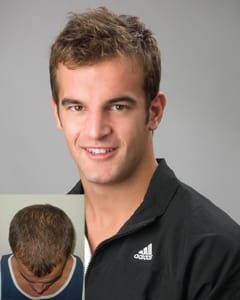 At last a breakthrough in Hair Restoration using Advanced Laser Therapy hair growth treatment. In a university clinical trial*, 86% of men who underwent Advanced Laser Therapy® actually experienced Hair Regrowth within 4 months using a combination of Advanced Laser Therapy, a FDA-approved hair regrowth pharmaceutical and a proven scalp and follicle hair loss laser treatment program.
Advanced laser therapy, a hair loss treatment program which has been approved by the FDA and TGA, promotes hair restoration and allows you to regrow hair you have lost. Advanced Laser Therapy's Laser Hair Regrowth program combined with our proven scalp and follicle hair loss treatment program scientifically assists our customers address their hair restoration and regrowth needs.




*Clinical trial, details available at studio
*Results may vary depending on individuals.