Now Incorporated into Advanced Laser Therapy®* program for hair loss, the most effective hair loss prevention strategy available anywhere in the world today.
Revolutionary Stem Cell Hair Technology Factors is the ultimate breakthrough in hair treatment, brought to you by Advanced Hair Clinic, one of the largest hair replacement and regrowth company's in the world.
20 years ago, world leading bio-scientists uncovered the secrets behind our biological cells. These elite scientists persisted, delving into cell research projects to better understand our cells, how they work and why they age.
Their profound game-changing discovery—Stem Cell Hair Technology Factors—showed how 're-activating' signals that were previously 'dormant' could enable our cells to restore, repair and rejuvenate themselves once again to maximise cell life.
The result of this cutting-edge bio-science exploration? Stem Cell Hair Technology Factors combined with Advanced Laser Therapy is able to halt hair loss and increase hair growth by over 90%.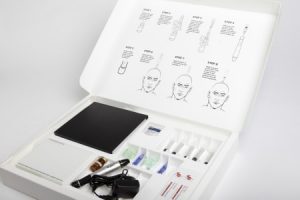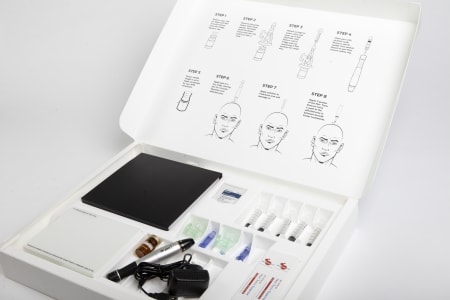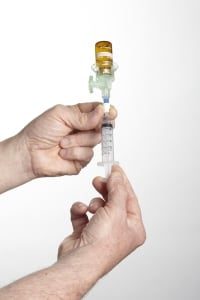 How Do Growth Factors Work?
Growth Factors are protein molecules which are naturally produced by our bodies. Different growth factors do different things. Growth factors function to regulate cell division and cell survival. The Stem Cell Hair Technology Factor program from Advanced Hair Clinic delivers growth factors naturally found in the body to dormant hair cells and follicles.
Stem cells have the ability to self-renew or multiply, meaning that they can repair and replace tissue in the human body. In other words, stem cells have the power to heal.
Every receptor on a cell has its own unique shape that can only receive a specific Growth Factor—almost like a key fitting into a lock. Once a Growth Factor and a receptor join, an electrical signal is sent to the nucleus of the cell, which either creates new cells or changes existing cells.
The Stem Cell Hair Technology Factor Program from Advanced Hair Clinic benefits from the patented 'SigGion™' Complex that delivers the highest concentration of active cell signal proteins. The program also:
Unblocks the follicle entrance
Reduces excessive oil
Kills bacteria caused by dandruff
Increases nutrients to the scalp and restores the appearance of hair colour
Real People. Real Results.
Advanced Laser Therapy is clinically proven to promote hair growth by 90%
* Results achieved with Minoxidil. Requires continuous use.
Stem Cell Hair Technology Factors Instructions
Designed for self-application, our easy, hygienic at-home program can be used in conjunction with Advanced Hair Clinic's Laser Therapy* or as a stand-alone treatment.
The 10-week STEM CELL HAIR TECHCNOLOGY FACTOR program requires application of the formula once per week, coupled with bi-weekly applications of hair serum. Each application takes just 15 minutes to apply.
Download our handy instructions on how to use Stem Cell Hair Growth Factors.
Newspaper & Medical Journal Press Releases
http://www.nature.com/ncb/index.html?foxtrotcallback=true
https://www.unilad.co.uk/life/a-simple-cure-for-baldness-has-just-been-discovered/
FAQ
Is this treatment right for me?
At your free no obligation consultation, your Advanced Hair Clinic consultant will carry out an assessment of your hair and scalp to determine if this treatment is right for you.
However if you suffer from the following contraindications then the Stem Cell Hair Technology Factor program is not to be considered:
Keloid Scars
History of eczema
Psoriasis and other chronic conditions
History of actinic (solar) keratosis
Presence of raised moles or warts on the targeted area
Scleroderma, collagen vascular diseases or cardiac abnormalities
Blood clotting problems, active bacterial or fungal infection, immuno-suppression
Can I take a break during the treatment program?
No you need to commit to the 10 week program without any breaks in the treatment program.
Who can be treated with the Stem Cell Hair Technology Factors program?
People with the following hair loss conditions can be treated: Androgenic alopecia and Alopecia Areata
Men and Women
Results are faster on younger people
All skin types
Hamilton Scale of 1-5 in men
Ludwig Scale of 1-4 in women

Is it painful?
The treatment is not painful.
Can I use this treatment if I'm using Minoxidil as part of the Advanced Laser Therapy Treatment Program?
Yes, if you are using Minoxidil you must continue to use this as prescribed.
My scalp has been sunburnt; can I continue treatment?
No you should stop the treatment until your scalp has healed.
I forgot to put my vial of Growth Factors back in the fridge after use. Can I still use it?
Yes, providing that the vial has not been left out in direct sunlight with temperatures exceeding 30 Degrees Celsius-86 Degrees Fahrenheit